Welcome to
Santa Monica Acupuncture and Wellness!
Modern, Western medicine certainly has advanced human progress by curing us of many afflictions. However there are some ancient remedies that retain their value and effectiveness even as modern medicine advances. Acupuncture is one of these remedies. Acupuncture works by harmonizing the flow of Qi (life energy) through the body. Lines of Qi coalesce at certain points of the body (called Acu-points) which pertain to the function of various organ systems. Sometimes the flow of Qi can become blocked or unbalanced and acupuncture and traditional Chinese medicine is the best tool to fix that disharmony.
In a typical Acupuncture session, the appropriate Acupuncture points selected by the acupuncturist are stimulated with tiny needles which are about the width of a human hair and usually do not hurt. The patient lies quiet and still with the needles for 20-30 minutes while the flow of Qi is balanced. The patient often leaves the appointment relaxed, rejuvenated and with a feeling of well-being. People who have used acupuncture say it has therapeutic benefits. They often report feeling calmer, more at ease and more centered. Sometimes the chief complaint is resolved after one or a few treatments while other issues may require many treatments, supportive herbal therapy and dietary and lifestyle changes.
Ancient acupuncture can be used as an effective remedy for modern problems, including infertility, migraines, chronic pain (back, neck, etc.) gastrointestinal disorders, anxiety, lack of energy, and much more. Many people also credit acupuncture with helping them quit smoking or overcome other substance abuse issues, and it is sometimes used as a weight management tool. The use of acupuncture to treat certain problems has been endorsed by some of the world's premiere medicine bodies, including the World Health Organization the National Health Service of the United Kingdom and the National Health Service of the U.S.
An example of how acupuncture works would be to imagine a flowing river. If a large object is thrown in the middle of this river, then it will stop flowing freely. Acupuncture would remove this blockage so that the energy, or river, can flow freely once again.
There are many conditions acupuncture can address and is especially helpful with pain. Conditions such as neck tightness, headaches, migraines, shoulder pain, stomach aches, lower back pain, joint pain caused by osteoporosis or arthritis, digestive pain, post-surgical pain, and overall body aches can be relieved through the use of acupuncture. It is also used to treat mood disorders and other issues such as depression, insomnia, anxiety, and stress. Acupuncture also benefits reproductive health by improving fertility, sperm motility, sperm count, and helps manage menstrual cycles.
Dr. Laurie Binder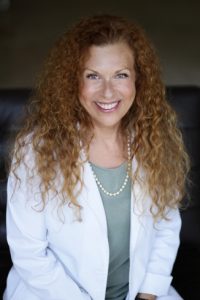 Dr. Laurie Binder has over 20 years' experience in the healthcare field as a Certified Health Consultant, LAMAZE childbirth educator, labor and delivery nurse, OB / GYN Nurse Practitioner, and Doctor of Acupuncture. She specializes in Infertility and Natural Fertility, Pregnancy Support, Women's Health, PMS, Menopause, Nutrition, Sleep Disorders, Gastrointestinal Disorders, Energy Optimization, Anxiety, Stress, Pain Relief and Weight Loss. Dr. Laurie's Santa Monica Acupuncture and Wellness practice is available to help you achieve optimal health, energy and vitality. If you are interested in more information, please explore the website and do not hesitate to contact us to discover the benefits acupuncture and traditional Chinese medicine has in store for you.
Doctor of Acupuncture LAc Certified Nurse Practitioner 20+ years medical experience
By appointment only: (424) 835-1855
Acupuncturist in Santa Monica, California
What Laurie's patients are saying